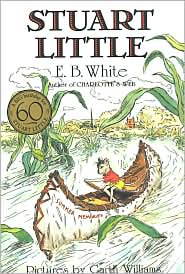 They aren't. Get over it. Recent examples...Stuart Little, Tale of Despereaux, TWILIGHT!
I'll admit it. I enjoyed all three of these movie adaptations. However, they are just NOT as good as the books.
We thoroughly enjoyed the book,
Stuart Little
, although we did find the ending surprisingly open-ended. The movie is cute, but it's completely different from the book. I think that was what made it disappointing to us.
The Tale of Despereaux
is one of those books that knows how to pull the heart-strings of even the smallest listeners. There are parts of the book that I thought might be too sad for the little ones. One of the main characters gets hit in the ear so many times that she nearly goes deaf.
I was surprised to find that the kids counted this among their favorite stories ever. I really enjoyed it, too. The voice and characters are outstanding.
The movie stays closer to the book than Stuart Little, but there were still many changes. The movie was cute, but it wasn't a story that could change your life like the book.
Moral of the story? Books are more than words. They bring your mind to life. Movies are great entertainment too, but they usually lack the magic that the written word contains.
I'm curious, though. Have you ever seen a movie adaptation of a book that you truly liked AS MUCH as the book? I do love the Pride and Prejudice movies...old and new. That's the only one I can think of.
How about you?