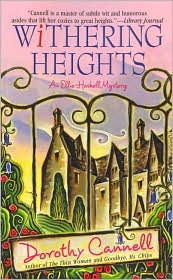 Ellie Haskell has shipped the kids off to their grandparents and is looking forward to a little private romantic time with her husband, but things rapidly take another turn. She and Ben have a tiff, her cleaning lady Mrs. Malloy has a feud to resolve, and a stray cousin shows up expecting help.
It seems that Ben's cousin has won the lottery and bought an old historic home complete with a mystery. Ariel, the cousin's daughter, is convinced FOUL PLAY is at work and needs Ellie to come and hold her hand. Oh, and Mrs. Malloy's long lost sister just happens to live in the same village. So it's off to Yorkshire they go, Ben, Ellie, Ariel, and Mrs. Malloy.
I love the screwball humor that Dorothy Cannell always works into her books, and Ellie and Mrs. Malloy make a very funny combination. This book is no exception, with a seance, garden party, an old flame, and various other plot twists thrown in. But it wasn't quite as good as some of the previous efforts. The ending was a bit of a disappointment, and I guessed 'whoddunit' about halfway through. Fun, but not her best. If this series sounds like one you would enjoy, start with the first book, The Thin Woman. All of her books are largely free from bad language, have only mild comical violence, and are very funny.