I received an email requesting that I expand the recommendations for the Pre-Tween set. Here are some of the first books that come to mind. Click on the covers to read more about the books on Amazon...

Princess Academy by Shannon Hale. This book is WONDERFUL! And if you're not the princess type, try it anyway. It's not your typical princess story.
Dragon Slippers by Jessica Day George. Enjoy fantasy? This book is so well-written and fun.
The Tale of Despereaux by Kate Dicamillo. We are currently reading this as a family, so I can't tell you if the end is clean and wonderful, but the first half is absolutely inspiring! Tiny Despereaux is a character you'll want to cheer for.
The Lion, The Witch and the Wardrobe by C.S. Lewis. This remains our favorite read-aloud so far. It's a classic for a reason.
Hope Was Here by Joan Bauer. Empowering book about a girl named Hope. This one is realistic fiction for the young teen set.
Blue by Joyce Moyer Hostetter. Enjoy historical fiction? This well-written book made me laugh and cry. Great characters!
Rules by Cynthia Lord. This one is realistic fiction about growing up with an autistic brother. It is engaging, interesting, and thought-provoking.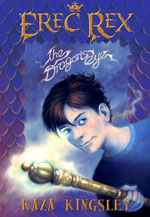 The Erec Rex series by Kaza Kingsley and the Percy Jackson and the Olympians series by Rick Riordan. If you did read and enjoy the Harry Potter books, you'll probably enjoy these series, as well. Erec Rex may sound similar to Harry Potter, but the series definitely stands on its own and is very different. Percy Jackson doesn't discover he's half wizard...no, he's half greek god. If you enjoy greek mythology, this series has great voice.
Check out
this list
, as well. Some of these books may be a little mature for a pre-tween, but it is a great list that might help you find a few more books.
And finally, readers, what are your recommendations?